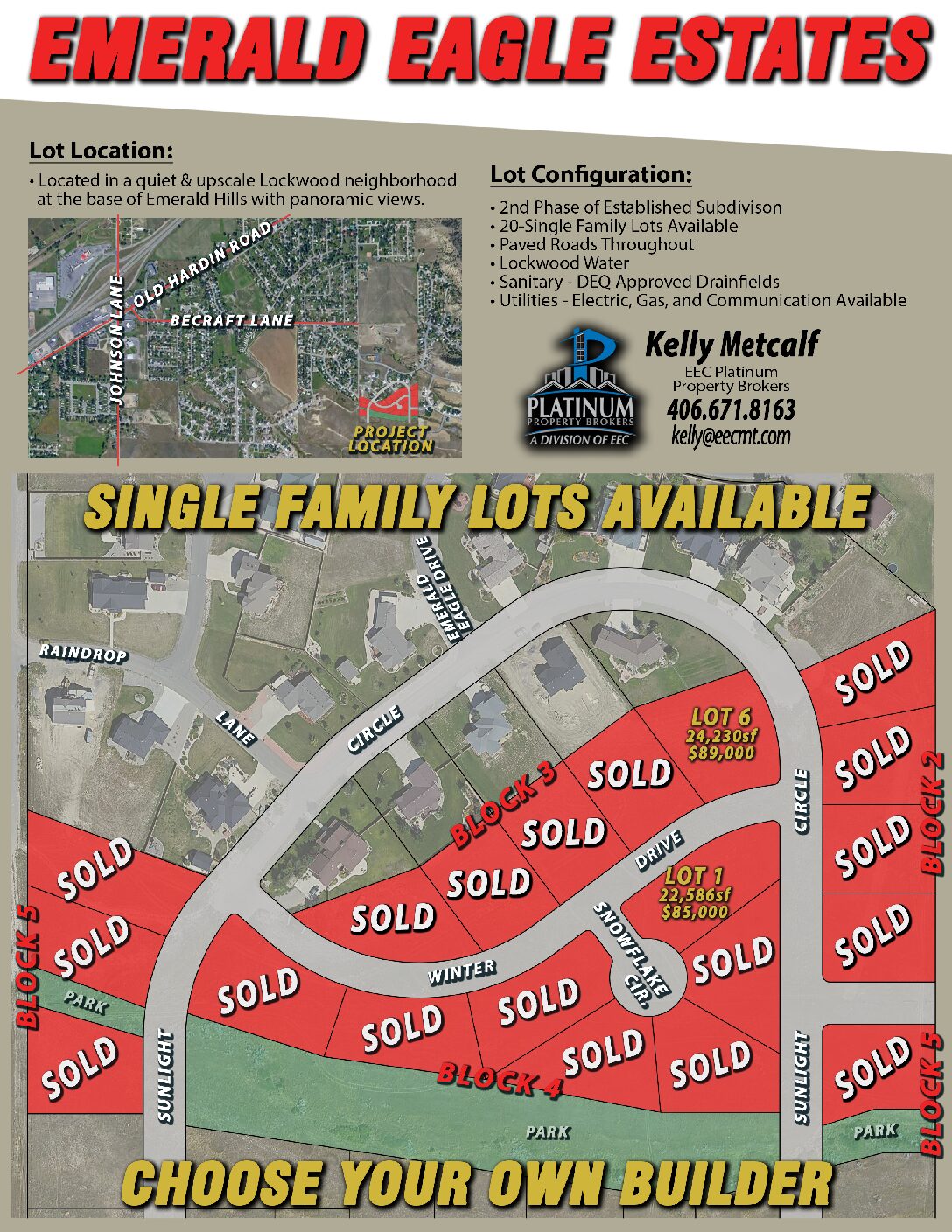 Emerald Eagle Estates
Located in a quiet & upscale Lockwood neighborhood at the base of Emerald Hills with panoramic views.
2nd Phase of Established Subdivision
20-Single Family Lots Available
Paved Roads Throughout
Lockwood Water
Sanitary- DEQ Approved Drainfields
Utilities – Electric, Gas, Communication Available
You Choose Your Own Builder
Contact
Kelly Metcalf
EEC Platinum Property Brokers
406.671.8163
kelly@eecmt.com
6603 Western Way
Check out EEC Platinum Property Brokers amazing new listing! A hidden gem that will surprise you when you enter the doors. What looks like a typical warehouse unit is truly a one-of-a-kind space that offers up amazing amenities.
Anticipated Completion Fall 2022
This opportune space is 2,815 SF per Suite (2@ 60′ x 40′ plus 415 SF mezz.) 7,950 SF Fenced Gravel Yard per 2-Suites
Daylit Office Space (264 SF)
Heated/Cooled Office & Mezzanine
Separate Finished Restrooms with Shower
Finished Mezzanine with Wet Bar/Kitchenette
Heated Shop/Warehouse
Washer/Dryer Hookups
Front 18'x14′ OH Door
Future rear 14'x14′ OH Door Framed
Unit Finish Level Similar to Pictures Attached.
Sale: $775,000 Please inquire with agent for further details.
Contact
Kelly Metcalf
EEC Platinum Property Brokers
406.671.8163
kelly@eecmt.com